Events
College Hosts First Entrepreneur Pitch Competition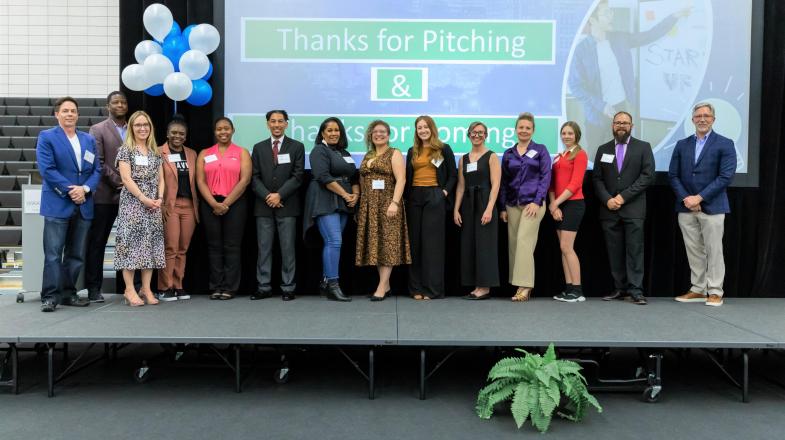 RALEIGH, N.C. (May 4, 2022) – Making the dream of owning a Main Street business a reality! May 2-6 is National Small Business Week, and tonight, small-business owners and college entrepreneurs competed at Wake Tech's Scott Northern Wake Campus for a chance to win funding to help them get their business idea off the ground at the first Main Street Entrepreneurs Accelerator pitch competition.
It's the culmination of the Main Street Entrepreneurs Accelerator (MSEA) program, an innovative new initiative to help emerging entrepreneurs accelerate their business. Participants complete a series of small-business training sessions on a variety of topics and receive coaching and mentoring to help them hone their business skills.
Sixteen budding entrepreneurs were invited to pitch a business they want to develop to a panel of judges for the opportunity to win cash awards.
Judges chose nine business owners to receive funding, including the grand prize winner Raven Edwards, who took home $20,000 for her business Kraven Juice, which sells specialty juices. She plans to use the funds to expand her business.
"Kraven Juice is so thankful for the support and resources provided by the Wake Tech MSEA program," said Edwards. "This experience was truly amazing, and I took away some great tools that will truly enhance my ability to run an impactful business and continue serving the community with nutritious drink options with bold flavors."
Eight other budding entrepreneurs took home between $3,000 and $15,000 each:
The MSEA program is made possible by a private gift from Mike Conlon, the founder and chief executive of Affordable Communities Group LLC, and a grant from Wells Fargo. Conlon, who is a Wake Tech Foundation board member, has directed more than $1 million to support small-business programs at Wake Tech.
"I love entrepreneurship," said Conlon. "The more we can help people get started, the better we all are. Small-business development is critical for our community."
"Many people who really want to start a business don't have access to the extra capital they need to make it happen," said Cherith Roberson, director of StartUp at Wake Tech. "This program is a way to try to help those who have the dreams, desire and the business knowledge take the next step in their business development."
The MSEA program is open to student entrepreneurs at Wake Tech, Shaw University and Saint Augustine's University, as well as eligible small-business owners in the community. For more information visit, mainstreet.waketech.edu.