How to Install and Use a Microsoft Authenticator App
English-language instructions
Spanish-language instructions
To configure a Microsoft Authenticator app, you will need both a smartphone and another device, such as a computer or tablet.
Download the app to your phone from either the App Store (for iPhones) or the Google Play Store (for Android phones). The app is free and will never require credit card information to use. Follow the instructions to install the app on your phone, but do not open it yet.
On your computer or tablet, go to Microsoft and sign in with your Wake Tech email (you Key Account user ID and @my.waketech.edu) and password.

If you get a "More information required" screen, simply click "Next" and follow the instructions.
 


If, however, you get a screen like the one below, click "Next" and open the authenticator app you downloaded to your phone.
 

If the app opens to the following screen, click "Agree" and then click "Scan a QR Code."
 

But if the app opens and you see a screen like the one below, click "Add account" and then click "Work or school account" and "Scan QR code."
 

 
Click "OK" for the authenticator app to access your phone's camera to scan a QR code. On your computer, you should get the following screen. Click "Next" to start the setup process, and a QR code should display.
 

Scan the QR code on the computer with the phone, which will connect the authenticator app to your Wake Tech account. If the app requests permission to send you notifications, click "Allow."
 
On your computer, once your phone registers the account, click "Next." A notification will then be sent to your phone to test that the app works, click "Approve," and then click "Next" after it verifies the test was successful.
 
Now, you can set up a text or call-in option. First, enter the phone number you would like to use, ensure that the "Text me a code" option is selected and click "Next."
 
You will receive a text message on your phone with a six-digit code. Enter that code into the text box on the web page and click "Next."
 
You will receive a message on your computer noting the registration was successful. Click "Next" and then "Done" to finish the setup.
Using an authenticator app
Every time you sign into your Key Account, you will get an additional security verification prompt, which will send a Microsoft Authenticator notification to your phone. Tap the notification, and then click "Approve" to access your account.
If you cannot use the app at that time for some reason, the security verification prompt provides an "I cannot use my Authenticator app right now" option, which allows you to use a different method to verify your identity and access your account.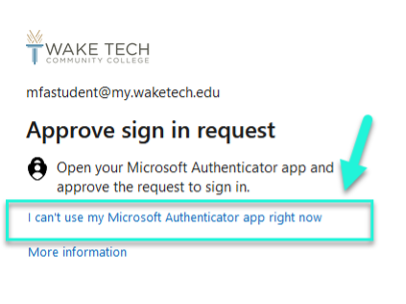 Click on that option, and you will get a list of alternative ways to verify your identity, such as a text or a phone call. Pick any of the methods and follow the prompts.