Refresh your skills. Keep current. Advance your career.
Wake Tech offers non-degree training to help you quickly learn computer software skills that are necessary for today's workplace. Condensed training taught in 1 and 2-day classes. 
While classes are taught at Wake Tech campuses and centers, we can develop a course for a group of people and deliver that training at your office or facility. 
Does your employer reimburse you for training?
Contact us to learn how to take advantage of sponsored billing. 
Elizabeth Knocklein | [email protected] | 919-866-7209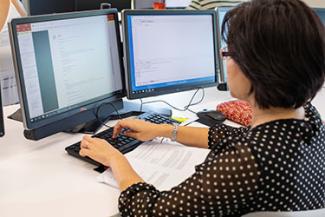 ---
Course Details & Registration Information
Microsoft Excel 2019 Level 1
SEF-3001JX2
2 available classes
Microsoft Excel is a globally-used program essential for business and academic settings. In this part 1 of a 3-course series, students will develop foundational knowledge and skills, which can be built upon. By the end of the course, learners will be able to create and dev...
Notary Public Education (Book Included)
SEF-3001O2
18 available classes
This course is approved by the Secretary of the State of North Carolina to train, test, qualify, and commission NC notaries. Students will learn the legal, ethical, and procedural requirements for notaries based on North Carolina law. This class includes the required Notary...
Access 2016 Level 3
SEF-3001MQ2
Expand your knowledge of relational database design using Access 2016. In this course, you will learn how to write advanced queries, structure existing data, validate data entered into a database, and customize reports. On completion, you should be comfortable working with f...
Access 2016, Level 1
SEF-3001AL2
Microsoft Access is an information management tool that helps you store information for reference, reporting, and analysis. Learn this powerful database program from the ground up - and how to use it correctly. By the end of the class, you will have gained skills to manage...
Access 2016, Level 2
SEF-3001AI2
Microsoft Access is a robust, functional database used to analyze large amounts of information, and manage related data more efficiently. Expand your knowledge of relational database design by learning how to write advanced queries, structure existing data, validate data en...
Adobe Illustrator Level 2
SEF-3001IC2
In this part 2 course, you will cover advanced topics in Adobe Illustrator. Explore how to combine objects to create illustrations, paint with custom brushes, set character formats and apply effects to an object. Discover how to use painting tools, manage colors, format type...
Adobe Lightroom
SEF-3001OK2
Learn how to use this creative software for organizing and manipulating images. Navigate the interface and learn how to import and export files, create collections, add tags and keywords, and rate and rank images. Use editing tools to synchronize adjustments across multiple...
Adobe Photoshop Level 2
SEF-3001HY2
In this part 2 course, you will discuss advanced topics in Adobe Photoshop. Create images and use editing techniques to produce exciting visual effects. Professional or amateur photographers can learn to enhance, modify, and organize their photographs.
Big Data and Business Analytics Part 2
SEF-3001MS2
Data analytics has become a critical topic across the business world. Whether you work with a major corporation, small business, or non-profit entity, understanding big data and business analytics is an increasingly important and desired skill. This second course in the seri...